At JOPA Clinic we comprehensively deal with rehabilitation of children from infancy to school age. Our experienced physiotherapists will professionally assess the child's motoric development and select an individual treatment.
We rehabilitate children with identified disorders:
Neuro-motor impairments, including muscle tone disorders, and positional asymmetry.
Diseases of the central nervous system, e.g. cerebral palsy, spinal muscular atrophy.
Orthopaedic conditions such as scoliosis, postural defects, clubfoot, knock-knees.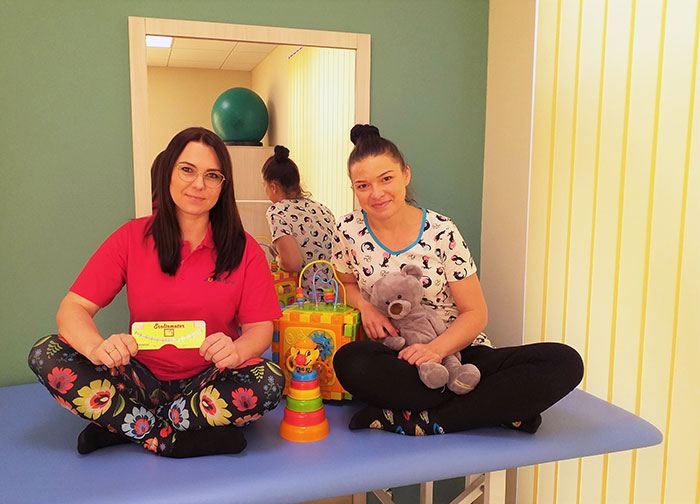 Wiodącymi metodami pracy są:
Metoda NDT – Bobath (Neurodevelopmental Treatment – leczenie neurorozwojowe)
Terapia polega na ćwiczeniu całego ciała dziecka, dzięki czemu dostarcza ona maluchowi odpowiednich doznań czuciowych i ruchowych. Wymaga ona od dziecka aktywnego udziału. Bardzo ważna jest jednak to, aby odbywała się ona bez stresu i nadmiernego wysiłku. Usprawnianie jest celowane na wszechstronny rozwój dziecka oraz uzyskanie przez nie jak największej niezależności.
Zastosowanie terapii:
zaburzenia napięcia mięśniowego (wzmożone napięcie mięśniowe, obniżone napięcie mięśniowe ),
hamowanie nieprawidłowych odruchów,
asymetria ułożeniowa,
kręcz szyi,
mózgowe porażenie dziecięce oraz inne uszkodzenia ośrodkowego układu nerwowego,
zaburzenia koordynacji psychoruchowej,
problemy ortopedyczne.
Metoda FITS (Funkcjonalna Indywidualna Terapia Skolioz)
Terapia dedykowana dla dzieci od 4 roku życia z wadami postawy, skoliozami, wadami klatki piersiowej oraz chorobą Scheuermanna. Metoda korzysta z wielu metod fizjoterapeutycznych oraz technik opracowanych przez samych autorów metody (wzorce korekcyjne). Cechuje się indywidualnym podejściem do małego pacjenta i jego problemu.
Zastosowanie terapii:
stabilizacja skoliozy u dzieci z uogólnioną wiotkością tkanki łącznej,
zmniejszenie kąta skrzywienia w skoliozach nieprogresywnych lub z kątem skrzywienia do 30˚ u dzieci z prawidłowymi napięciami mięśniowymi,
poprawa stanu klinicznego pacjenta z dużą skoliozą,
uelastycznienie skoliozy w celu lepszej korekcji w trakcie zabiegu operacyjnego,
poprawa funkcji oddechowej, ogólnej sprawności i wydolności pacjenta po zabiegu operacyjnym.